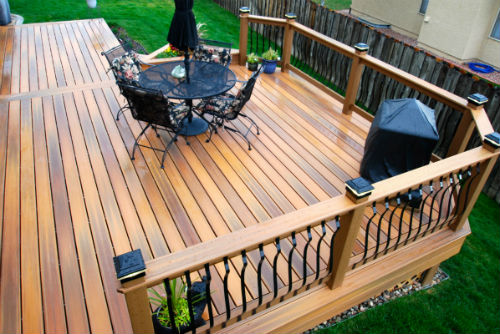 Wood decks are one of the most popular backyard projects in the TriState area today. Evansville Deck and Fence Company has been building decks in TriState area since 2004. With many years of experience designing, building and maintaining decks it has allowed us the opportunity to really learn from our customers and make their ideas and dreams become a reality.
All framing lumber used in the construction of your new deck (i.e. bearing posts, joists, beams, ledger boards and ribbon boards etc.) is #2 Grade pressure treated AC2 southern yellow pine. We offers many different types of flooring options for your new wood deck. One of the most common wood decking options we offer is pressure treated Southern yellow pine in both 5/4 premium grade decking and #1 grade 2×6. Other alternative decking choices would be Western red cedar, IPE (better known as iron wood), and composite.
As with any exterior wood decking project, decks do require periodic maintenance to keep their appearance and longevity. Evansville Deck and Fence Company does offer yearly maintenance programs (cleaning and sealing) to help assist you in the proper maintenance of your decking project.